4 slots are filled, 8 teams are left to fight for the remaining ones. We reach the final stage of The Defense qualifier, the triple elimination stage.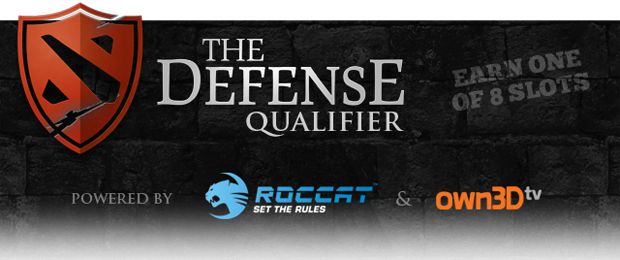 Out of 512 participating teams, 4 of the best have already been identified yesterday. Those have been drawn into the groups today. Congratulations to:
Romy and the rest

(Group A)

QWERT12345

(Group D)

Artyk Gaming

(Group C)

paiN-Gaming

(Group B)
While everyone else suffered at least one defeat yesterday, 8 teams have the opportunity to grab the second or even third chance today. They have only lost once so far and need two more wins to reach the groupstage of
The Defense
, sponsored by
ROCCAT
and
own3D.tv
If you want to have a closer look at yesterday's results, check out the grid
here
The Schedule
MB = Middlebracket, LB = Lowerbracket
19:15: MB Top 12 (4 matches) << Losers go to LB Top 12
20:30: MB Top 8 (2 matches) << Losers go to LB Top 10, winners qualify
20:30: LB Top 12 (2 matches) << Losers are out
21:45: LB Top 10 (2 matches) << Losers are out, winners qualify
Note: Even though the grid below goes until the grand final, the last rounds won't be played out.
One or two matches might be delayed in order to get more of them streamed.
The Grid
(since the upper bracket is finished, you'll only see the middle and lower bracket here)
Loading...
Broadcasting
Everyone who's dropped out of the competition, or just wants to watch some interesting and promising teams compete, can tune in to Christian 'Epi' Czech once again. He will be live all evening to broadcast as many deciding matches as possible.